Flipping is to buy something at a lower price and sell it at a higher price. Ultimately you can make money in the form of profit. It's a human nature to flip things for earning profit and creating new opportunities. In a Real State business, you purchase properties at your undervalue amount, do necessary renovations and after a period of time sale them at a price with maximum profit. This is how flipping works.
The same goes for Flipping Websites where you buy a website that is low priced, improve it by increasing traffic and generating more revenue, thus mounting its overall value and then sell it. By Flipping Websites, you can make a handsome amount of money in a short period of time.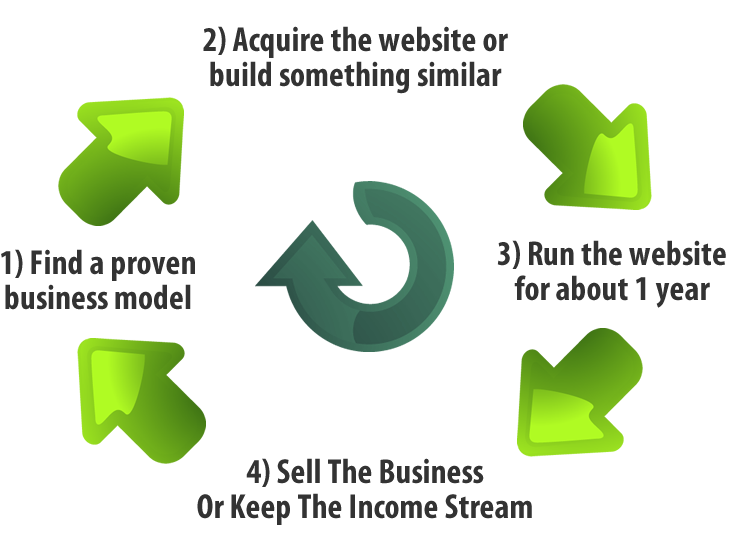 Buying Websites
If you want to make an online living then choice is all yours! You can either start from scratch and build up your website or buy an existing website or blog. There is a hug online market to buy and sell websites for example Flippa.com makes money by selling profitable websites.
But the question is, if these websites are making so well then why to sell them? There are various reasons for selling these websites such as most of the people start their website from scratch and sell them, hence making their career while many people want to have bigger things or pay for something etc.
However there is big shortcoming in buying a website because if you want to buy an established website, it will cost significantly more than starting a website from scratch. In this case you have to pay for that effort that it has taken to set up and to generate traffic and income.
My personal opinion, in this regard, is that if it's your first time to buy a website then start from the scratch rather than buying a website. Doing so will give you experience, you will learn a lot more by making mistakes and will be aware of each and every step in this regard. It would be very helpful in establishing your own online business.
Selling Websites
Selling websites and making profit – a powerful passive income plan. Most of the people said that it's very difficult to earn online, it's somewhat true but I believe that if you continue to work with dedication and focus, you can start earning few hundred dollars per month. It's not a difficult task, you can start it even if you have basic knowledge and rest depends on how well you utilize your knowledge.
Suppose you have bought the ownership of a website for $100. Now you can sell this website at a profitable cost i.e. for $150. This is how you can make a profit of $50. The basic concept behind this is very simple and more interestingly, at any time, you can sell as many websites as you want. It depends upon the choice of websites, their promotion and how you make the sales.
The most important subject during selling websites is determining the exact price of a website as the value of a website depends upon many factors. As an owner, it's solely your choice for what price you want to sell but your demand must not be very high, so that it would be difficult to sell it.
For selling website, you have to make a good description first, in which you have to mention that why should someone buy your website. The price you mention should reflect that you are selling your website at a low price and it has potential to earn more. You must convince your buyer that your website is really valued and it's beneficial for him to buy your website.
Conclusion
Flipping Websites is such a profitable business that never fails to work and best part is that anyone can get started with it and earn well. It's not very difficult as I have personally made enough money by online business and by Flipping Websites. I'm sure the flipping of websites is going to be the fastest growing online business in the near future so it's better to enter into the market from now.
"Flipping websites is the newest cool way to make money on the internet" – Jeremy Schoemaker 
Picture credit: Flickr